The Yahoo!
Incident
Netdisaster is slowly recovering from an incident that knocked it down for more than a month. Netdisaster has been kind of its own victim: the disasters seem to be too realistic for everyone to understand.
Here is the whole story...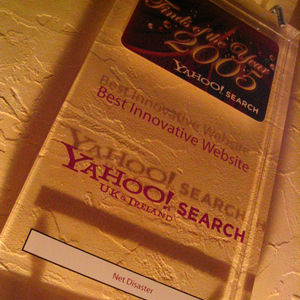 2006:Yahoo! UK gratifies Netdisaster with a "Best Innovative website of the Year 2005" award (picture on the right: the trophy on my living room's wall).
September 4, 2008: Yahoo! (via a company in charge of its security issues) threatens Netdisaster (and its hosting provider) with legal action, on the grounds that the Text Sucker disaster looks like a "phishing" site. Netdisaster is shut down.
At their request, I send them the source files of the site, so that they can check by themselves. Actually, they do not seem to care...
September-October, 2008: Hundreds of upset Netdisaster users write to show their support (thanks, everybody! Getting that much support e-mails definitely was the nice part of it).
October 6, 2008: One month later, the Yahoo! "cops" write again. « After we have investigated the issue, we can agree that there is no phishing involved but a sophisticated innovation site. The yahoo innovation site was mistaken to be a phishing site. (...) We're sorry for any trouble this may cause you. »
In between, Ronaldo Cardonetti from Abusando.org, unhappy with the disappearance of Netdisaster, got in touch with the company and explained that they had obviously missed something and that they should reconsider their position. (Thank you VERY much, Ronaldo!)
October 16, 2008: Netdisaster is up again.
As a result:
Yahoo! is now blocked from Netdisaster: « I'm not sure you have the authority to use this kind of site using yahoo logo and form so I suggest you keep this site blocked from the innovation mechanism. »
Of course, everyone sees the surreal part of it: Yahoo!, the very site that rewards Netdisaster on the one hand, asks to be blocked from Netdisaster on the other hand...
The technical approach of the Netdisaster engine has been modified: users can no longer share their disasters (e-mails, blogs, forums...). Disasters no longer have a specific URL. No URL, no "phishing" effect.
Sharing disasters was definitely part of the fun, but that's how it goes.
And now, Ladies and Gentlemen, here is a special contribution by a Netdisaster disappointed fan – a contribution which I really have to share:
I really loved your site so much. I mean, really. Rewarding a site then banning it it just the opposite of biting a hand that feeds you. Cause I hate Yahoo so much, I wrote a poem
WARNING: HAS COARSE LANGUAGE! (CENSORED)
F--k you Yahoo
You shut a good site down.
Blaming the sucker
Makes your site a big f--ker
Now stop clowning around.
F--k you Yahoo
Phishing ain't what they do.
On my 'good' list you're last
You can kiss my @$$
You're just a big piece of spew.
F--k you Yahoo
It ain't funny: at me don't scoff
Shutting down sites
Falsely really bites.
It was a really good site so f--k off!
Pivotdude123
PS: Your site was epic! It wasn't phishing at all!
Netdisaster is now waiting for Pivotdude123's poem about eBay, who is to blame for the definitive online engine shutdown, rather than Yahoo!.
Read also this eBay song by another Netdisaster fan.